Build the All TOYOTA Global Network that connects
the Toyota Group globally.
Toyota has been reborn from an automobile manufacturer into a mobility company. In order to cope with such change, it is necessary more than ever for the companies involved to work together to enhance synergy. Therefore, we are working to build networks that seamlessly connect everything in order to remove barriers between group companies around the world and accelerate collaboration. The scale we work on is the largest in the world, connecting more than 15,000 locations, including the Toyota Group, as well as parts manufacturers, production plants, and sales outlets. In addition, by deploying a more secure Toyota Systems proprietary cloud, we have improved infrastructure efficiency, facilitated communication, and optimized costs. This infrastructure is indispensable for the Toyota Group to work together.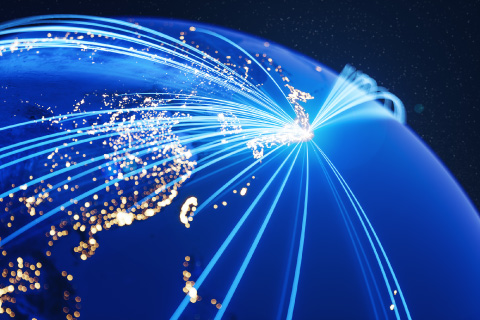 Totally manage the Toyota Group globally
with cost efficient and high-quality security.
As cyber attacks increase rapidly around the world, Toyota Systems is responsible for centrally monitoring and managing security to protect the Toyota Group from such threats. Group companies and we have formulated our global security guidelines. The Toyota Security Operation Center monitors group companies around the world to prevent damage. We efficiently and effectively provide cyber security measures that require high technology and a large-scale resources, and ensure the security level for the entire group. Toyota Systems will continue to protect the group's important corporate assets.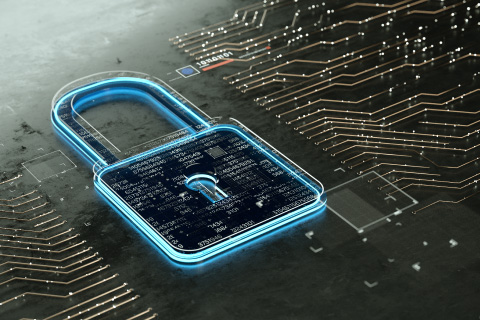 Build a new data transfer service that seamlessly connects globally.
Toyota Motor Corporation is working on manufacturing in cooperation with various companies, including domestic and overseas groups and affiliated companies. Delivery of electronic data is essential. In the past, each company used different services, which made management very complicated. Therefore, we are striving to establish a common data transfer service for the Toyota Group, both in」apan and overseas, with the aim of further improving business efficiency. By connecting all group and affiliated companies with a common service, data can be exchanged seamlessly and globally between systems and people. It will provide a place for information exchange around the world and create a new community and future connected by free exchange.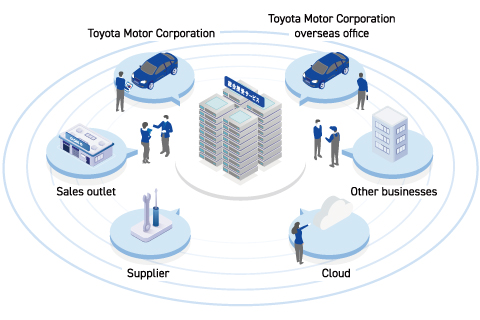 Build IT infrastructure to set up new offices.
Consolidate the company's total strength to support the Toyota Group.
The Toyota Group is working to reorganize in order to overcome a once-in-a-century revolution. With the integration and the opening of new research facilities, new offices are being established one after another. Toyota Systems is undertaking all the construction of IT infrastructure at new offices. It is no exaggeration to say that IT is essential for business as it supports everything from productivity to work style, including productivity and working styles. When launching new offices, planning is conducted at a level close to management, and proposals are made from the basics to the end result, such as networks, apps, and security, according to individual needs. We then take responsibility for subsequent operational support. We build IT infrastructures according to the company·s type, such as those that emphasize strong security and those that aim for free and open working styles. Supporting IT based on the work style and the management of the company is very challenging and rewarding work.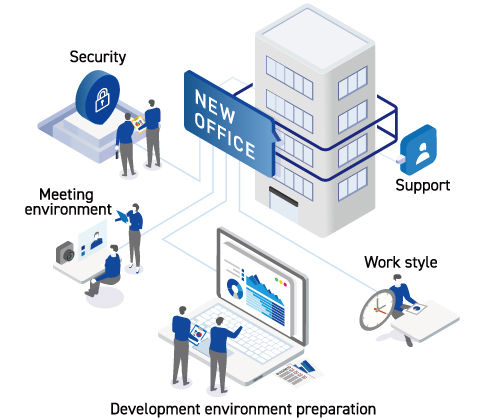 Strive to reduce wasteful practices in work and improve productivity. Develop an Al virtual assistant
We are working on Al research to develop a virtual assistant for use on PCs. The goal is to make a virtual assistant that will be close to each individual. We want to support complicated tasks with a wealth of knowledge so that employees can focus on their primary tasks. The project started with this idea. Currently, it is installed as a FAQ-chatbot on the internal portal site, assisting in the early resolution of questions on the use of internal systems and application forms. Also, we make improvements every day through cooperation across departments to make the assistant more useful. We will add functions such as internal schedule coordination and automation of conference room reservations, as well as search for in-house experts to contribute to the realization of new and better work styles.